OOTB 506 – 2nd February – Elbi Bauer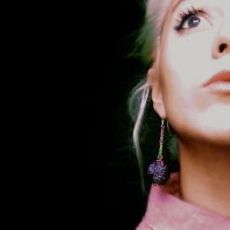 Hello there. Another week and another OOTB. At last our old timeless enemy 'Time' is dragging us out of the misery that is the long cold dark month of January into the cold, shorter and slightly less dark miserable month that calls itself 'February'. Never mind, there's a Scottish spring and summer not so far away now to sort of look forward to. Despair not, as the murky dull seasonal tones that grace Edinburgh's winter grey will be tinted by the bright and vibrant colours of this Saturday's featured act.
Young French musician Elbi Bauer has been singing since she was a child and soon realised that music was, and still is, her number one natural enduring passion and it certainly shows when you hear her songs. There's a distinct jazz influence mixed with an electro beat sound that's helped along by live looped samples as Elbi sings easily with a luscious fresh tone accompanied by her confident guitar playing. She's taking valuable time out of her studies to entertain us this Saturday, so make sure you get along to the Kilderkin for a show of musical bliss and song-crafting talent. Here's a link to her Soundcloud page to get a taste of what will be an unmissable live performance this week.
Reckon you are unmissable as well? Slots are open for show business as usual if you reckon you are one to be reckoned with alongside an unreckonable stage presence. Just turn up before 7:30pm as most, if not all, slots are booked by then.
See you there. TB 🙂