OOTB 508 – 16th February – Dog On A Swing
It would be too damned easy to blurb critically and endlessly on about bleedin' Valentine's Day. Retail assistants up and down the country have been purchasing red and pink card from their local stationers to cut into various sized heart shapes for display purposes. More symmetrical shapes are achieved by folding the card in half first, then cutting out a half heart outline half-heartedly. Blu-tacked or sellotaped inside establishment windows, the central crease is always visible making the hearts fold further inward as the adhesive melts under hot shop lights. Therefore, as a result, they look more like pink alien butterflies who are visiting Earth to nibble on some heart-shaped chocolate once a year. Stranger things have possibly happened, I think. Anyway onto musical matters…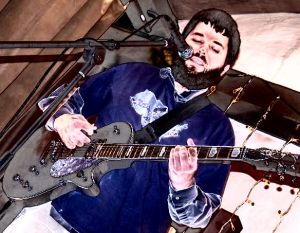 Featured act this Saturday is Dog On A Swing. The man himself is a prolific songwriter and performer. His cleverly crafted songs have an indie pop/rock feel to them with intelligent well thought out lyrics sung by Dog On A Swing's distinctive strong vocals. He's well known for preferring to play on his 'five string acoustic guitar' as the top E-strings on regular guitars simply get in the way of his up tempo strumming. It's a double-date this weekend as Dog On A Swing is featured act at The Listening Room on Sunday night too! No excuses, you have to witness at least one, if not both, of these performances on what should be 'National Dog On A Swing Weekend' every year. Here's a link to his Soundcloud page.
Get out of the shop and put down your scissors, sellotape and glitterpens. Come along, book some stage time and sing us those retail blues. It all starts at 8pm, but get here before 7:30pm to confirm a slot.
See you there…
Fraser Drummond, a regular performer and recognised talent of the music scene in and beyond Edinburgh sadly passed away recently. He was also a member of the band 'Confushian' and will undoubtedly be missed by everyone who knew him.
TB.