OOTB 517 – 20th April – Tina Louise Avery
Hello there and all that sort of thing-ting-a-ling. Add 5+1+7 to make 13. Now some of you superstitious numerologists out there might think of thirteen as having an unlucky influence on proceedings, but be assured that in this case the number thirteen is purely a prime number. Which means this Saturday we have booked a prime featured act.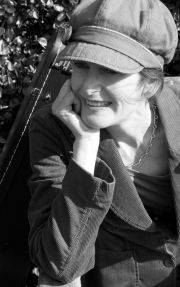 Tina Louise Avery has played on the OOTB stage several times and always to an appreciative audience. Tina's music has a uniquely styled folk/country direction coming through where the lyrics take you on an emotional and moral journey of human nature painted by the clear tone of Tina's vocals. Her accompanying finger-picking style on acoustic guitar is strong and distinctive, and expect a ukulele to make an appearance on the night as well. Tina has coordinated her OOTB performance with a timely EP release titled 'River Man'. Well worth coming along to the Kilderkin bar this Saturday to witness what will be memorable live performances from her long awaited EP launch. Here's a link to some of Tina's music: soundcloud.com/tina-louise-avery
Fifteen minute performance slots are up for grabs if you want to show off your finely crafted creations. Just turn up sometime before 7:30pm to confirm a booking and we'll blow the starting whistle at 8pm. Join in our weekly raffle to be in with a chance of winning a top prize hidden deep within the depths of our Silver Bag Of Dreams. All proceeds directly finance the running costs and strengthens the future of OOTB hosting live original music in Edinburgh.
Right then, apparently there is a million dollar prize to find the next prime number. The most recently discovered prime number has a mere seventeen-million digits to it, so for any success I'll need a much bigger computer and brain.
Oh well, be there or be forever trapped in a multi-dimensional mathematical square…
TB 😕