OOTB 520 – 11th May – Robert King
Hello. Trying to think out of the box these days to conjure up some kind of invention that everyone would want to buy into is no easy task. So many people out in the streets are walking directly (almost deliberately) in my way as if I don't exist at all simply because they are transfixed on their android phones which seems to cut off any peripheral vision. I suggest an external pinhole lens that can be fitted at the top of android phones which captures forward sight of what's coming towards the phone holder. The screen display on the phone would then be split via an 'app', maybe the top half or corner displaying what the pinhole lens sees so that such people will be more aware of what's coming at them. Just an idea.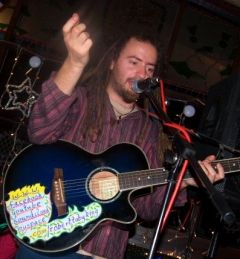 Onto this Saturday's featured act. Robert King has played on the OOTB stage to a beholden audience several times. His songs are driven by an alternative rock aspect where his lyrics mainly have a political and philosophical flavour carried along with Robert's reliable strong vocals. He was guitarist with 'Woodland Roots' for a few years and earlier in his musical history was a member of the award-winning 'Highland Youth Big Band'. This man knows exactly what he's doing on any stage with such high profile experience behind him. Certainly not a performance to be missed! Here's a link to some of Robert's songs: soundcloud.com/roberttobyking

Stage slots are available as usual. Just turn up on the night somewhere before 7:30pm to confirm fifteen minutes of spotlight time and good ol' OOTB will kick off at 8pm for an evening of blissful live original music.
Be there or be perimetrically of vision unaware…
TB 😀
One Comment