OOTB 522 – 25th May – Jim Bryce
Hello. So many extra-solar objects in our galaxy are being discovered at a rapid rate these days. Apparently Earth-like planets are surprisingly common, about one in eight sun-like stars with orbiting bodies carry such water-filled planets similar to ours. Makes it hard to believe we are entirely alone and therefore quite possibly there is another OOTB in progress outwith our home planet somewhere in the Milky Way. I like to think that OOTB devised on another world might stand for 'Out Of The Bathroom' where original toilet-humour songs are being played live right now. I can only live in hope.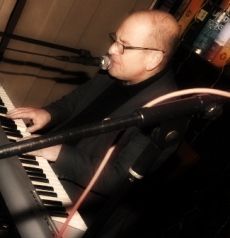 With both feet back on this galactic sphere we have booked a long established Earth-bound featured act. Jim Bryce eschews labels. Bryce veers wildly from dissonant boogie-woogie to rock to MOR, from jazz-tinged musings to elegiac pibroch to music-hall singalong. His influence are legion; the results unmistakably Bryce.
His lyrics can be political (tongue-in-cheek), achingly beautiful, witty and occasionally plain daft.
One thing is certain, you won't know what you're going to get next.
As an actor, he has appeared on screen, in theatre and on radio. He has been a scriptwriter for children's radio and theatre, and article-writer for "The Leisure Review". As a composer, he has written for radio, theatre, and squeaky stuff for the concert-hall. He was the composer of the musical "Whisky Kisses" which toured Scotland to great acclaim in 2010, and has had an orchestral suite premiered by the Open Orchestra in March 2013. Here's a link to Jim's official website: http://www.jamesbryce.org.uk
Don't be wasteful of time this Saturday night in front of the telly watching humans desperately craving instant fame whilst being judged moronically by dull celebrities. Come along to the Kilderkin bar in what's been a recently eventful Royal Mile for an evening out of guaranteed entertainment, talent and original music. You know it can only be good and healthy for you.
Want to be part of the performances this week? OOTB starts at 8pm, but get here sometime before 7:30pm to book a fifteen minute slot for yourselves and show us what you got (particularly if you're from another world armed with toilet-humour creations).
Be there or be so au contraire…
OOTB 😀