OOTB 523 – 1st June – Nyk Stoddart
Hola. Skin, skin, skin, fishy scaly skin. Why do so many TV chefs cook fish, or chicken, serving it with crispy skin to be eaten?  I don't know or have come across anyone who eats such a thing. Us 'normal' folks just like to eat the fleshy bits, right? Another thing that I don't get is when these chefs show us how we can cook a quick healthy meal, often two or even three courses, in half an hour. What they completely disregard is the necessary preparation time to cut and chop vegetables, and the like, which can take at least another half-hour in itself. In their studio kitchens all the preparation is done for them with all the veg and herbs neatly placed in bowls in readiness for the hot pans. Anyway foodie rant over.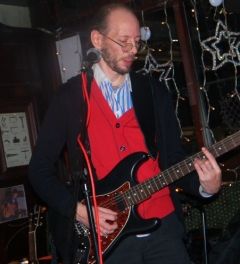 Someone who is always well prepared is this Saturday's headline act. Nyk Stoddart is well known and well liked out on the Edinburgh live circuit and never fails to entertain his audiences. Nyk's music takes you on a colourful psychedelic journey where his style veers from prog rock to as far as 'Fake Jazz'. His lyrics are deep, intelligent and occasionally humorous sung with melody that compliments Nyk's complex chord changes on guitar. He will be helped along on the night with Calum Carlyle on bass, so get yourselves along to OOTB to witness an experienced performer who you can't help but like. Here's a link to Nyk's music: soundcloud.com/nykstoddart
There will be plenty of performance slots up for grabs too if you fancy a shot under the OOTB spotlight. We start at 8pm, but turn up sometime before 7:30pm to confirm a fifteen-minute booking. No covers remember, just your own self-written creations are worthy of our audiences' ears. Got a spare £1 coin? Why not donate it to our weekly raffle with a chance of winning a top prize. All proceeds go directly into running costs of OOTB so that we can reliably and regularly showcase Edinburgh's finest original music.
Be there or be Reporting Scotland's Eddy Mair (who is no longer there)…
TB 😉