OOTB 525 – 15th June – Broken David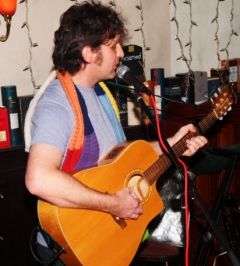 Hello. In need of a musical fix? Then Broken David as our featured act this week is just the man. He has graced the OOTB stage before to audiences who appreciate a top performance in Broken David's style of original acoustic folk, pop and rock. His lyrics are observational and emotional sung with catchy melodies accompanied by David's natural guitar playing. He is a jolly nice guy with a good sense of humour and is well worthy of coming along to the Kilderkin bar for a session of fantastic music this Saturday night.
In his own words, "Broken David glimmers in the space between soaring and crashing to the ground. Creating narrative out of a fractured journey towards better things, he sings of hope, pain and bemusement. Original song writing with nothing new to say."
Here's a link to some of Broken David's songs: soundcloud.com/brokendavid
Stage slots await to be filled with your own original performances. We welcome not just music, but spoken word also. Got some self-written poems to showcase? Then join in and let us all hear what you got. OOTB starts at 8pm, just turn up sometime before 7:30pm to book a fifteen-minute slot under the spotlight.
Fancy a shot at hosting or sitting behind the mixer tweaking sound levels? OOTB are always looking for volunteers to help out. Talk to any of us on the night or send an email via our contact page. It's all good fun and healthy for the soul.
Be there or be a bare bear without care…
TB 😀