OOTB 528 – 6th July – Calum Carlyle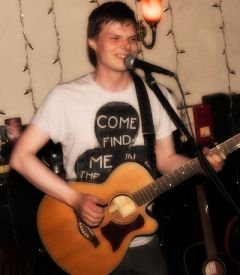 Hello. This Saturday's headline act at OOTB is a well known and popular performer out there on the live circuit who is well embroiled in the capital city's music scenery. Calum Carlyle is an independent singer-songwriter from Orkney, now based in Edinburgh. He writes an enchanting blend of acoustic pop where his catchy melodies and thoughtful lyrics can take his audiences on a journey of human emotion, observation and morality.
He's played throughout Scotland and England, and even a few times in Australia, as well as three past appearances on the Wickerman Festival Acoustic Village main stage. He's also helped run Edinburgh's longest running open mic night, Out Of The Bedroom, and he's in two other bands, Neoviolet and The Ferny Brackens.
Calum has a solo CD out called 'Honesty And Thorns', and another called 'Better Out Than In'. Both are reasonably priced and can be listened to on his website: calumcarlyle.co.uk
Stage slots are available on the night*. Just turn up sometime before 7:30pm to book one of those slots and everything will kick off at 8pm for an evening of taking part in, and witnessing a heady collection of fine original performances.
*It has been confirmed there will be a film crew from the BBC filming one of the acts this Saturday. OOTB will try to minimize disruption, but please bear in mind that it may be very busy, and sets may be shorter for the open slots due to circumstances we may not be able to control.
Much more worthy of your time than staying in during Scotland's wettest month and watching a rather dodgy TV show on a rival channel presented by two disturbingly banal celebrities, where more desperate dull and drab so-called celebrities impersonate famous musical celebrities whilst being judged by yet even more meaningless one-dimensional celebrities. Does that 'staying at home watching crap on telly' face sound familiar to you?
Be there or be crushed by the unbelievable weight of Bobby Davro impersonating Cher…
OOTB 😀