OOTB 529 – Norman Lamont And The Invisible Helpers – 13th July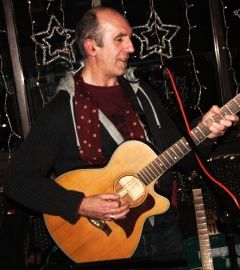 Hello people and stuff. Our featured act booked for this week is rather famous out there in music-land as he has been playing live since 1990. As an experienced songwriter and performer the wisely music of Norman Lamont is popular, catchy and wry. Like Nick Cave and Leonard Cohen he draws on folk and American melodies touching on universal themes via particularly quirky characters. One of the first singers to grace the stage at OOTB, Norman is backed this Saturday by multi-instrumentalist James Whyte and Mary Robbs indulging in gratuitous violins as his 'Invisible Helpers'.
'Accomplished mood-setter and lyricist' (Skinny).
'the undisputed King of the Edinburgh Songwriter scene' (Graeme Mearns)
'Pot. Kettle. Shiny.' (Norman Lamont)
Here's a link to Norman's website for more info and music: normanlamont.com
Something to look out for on telly this coming October is a documentary called 'Buskers' centered around performer Allan Dixon. The BBC turned up at OOTB last Saturday to film proceedings and all went very well. Allan will also be performing for us as featured act in September. Both are not one to miss.
What if a film-crew turn up to OOTB again? Will you be there? We start at 8pm, but turn up sometime before 7:30pm to book a stage slot and let an always appreciative audience hear your fine creations (and stuff).
Be there or be off the air…
OOTB 😀
PLEASE NOTE: OOTB will not be running nights during the festival. After the 27th July we return on 7th September.