OOTB 530 – 20th July – Jackie Gill
Hello and all that sort of thing ting-a-ling so to speak take-a-leak. Festival time is almost upon us where thousands of tourists migrate into Edinburgh meandering right in our way with aimless purpose, looking upwards and pointing at stuff whilst inadvertently treading in local dog-poo. This Saturday is our second-last event before we give way to festival proceedings. After the madness has abated, we shall return on Saturday 7th September.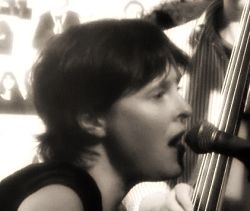 Featured act booked for this week normally plays as a duo, but instead has chosen to perform a solo set for us. Jackie Gill writes songs that are focused, catchy, memorable and intelligent. Her style is of alternative acoustic pop sung with a perfectly-pitched vocal that carries a sweet, gentle and emotional tone effortlessly grabbing the instant attention of her audiences. Jackie has played on the OOTB stage before and we are delighted she has accepted our invite to be headline act. A unique performance to not dare think about missing. Here's a link to some of Jackie's songs: reverbnation.com/jackiegill
OOTB begins the begin at 8pm for an evening of original performances. Turn up sometime before 7:30pm to book a fifteen-minute stage-slot if you fancy a go yourself. Then we'll end at the end when our brains cannot squeeze in anymore top quality music in one night.
Some upcoming one-off open mic events worth mentioning are:
Southsider ~ Open Mic Fundraiser For EWRASAC ~ 8pm ~ Sunday 21st July only ~ 3-7 West Richmond St.
Outhouse ~ Live @ The Loft Songwriter Circle ~ 9pm ~ Wednesday 24th July only ~ 12a  Broughton St. Lane
Malones ~ 9pm ~'The Dark Jokes Open Mic' ~ Thursday 25th July only ~ 14 Forrest Road
Be there or be avoiding this ongoing heatwave in cold frigid air…
OOTB 😀