OOTB 531 – 27th July – Nathan Fynn
Hello everyone all at the same time. OOTB 531 is our final event before the insanity of the Edinburgh Festival is annually shackle-free of its straight-jacket and let loose like a rabid dog for several weeks to devour all the tourists in its slavering jaws. Don't despair though, OOTB will return on Saturday 7th September after the festival's 'Hound of the Baskervilles' has finally emptied its straining bowels of festive digestions somewhere in the Meadows park.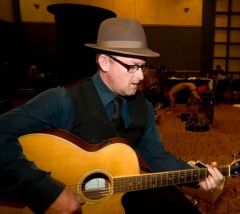 This Saturday, as a one-off, is happening a little bit differently. Normally OOTB starts at 8pm, but this week we start an hour earlier at 7pm with our headline act Nathan Fynn kicking everything off. Australian-born Nathan, now residing in Edinburgh, has been performing live particularly around Australia's Gold Coast for the last twenty years. His style is acoustic folk/blues and has a clear distinctive voice that can grab the attention of any audience. With such talent running through the Fynn family, daughter Annie will be performing some songs too. You would be rather daft to miss this.
Open slots are up for grabs from 8pm 'til late-ish. Just turn up, sign-up and show us what you got. It's original material only and free entry as always. We'll do our best to fit everyone in.
Last Saturday's proceedings were unexpectedly helped along with 'Hunters Bog Trotters' running club sharing the venue for the evening. Some of its members were brave and good enough to sing a few songs for us on the stage, aided with a little alcohol of course. It made for a very busy, but rather enjoyable evening of music and darned good fun. Together we even managed to completely murder a Bruce Springsteen song. Justice done.
What random pre-festival shenanigans will this week bring forth? Come down and find out.
Be there or be inconvenienced with a sore bum half-way up the stair.
OOTB 😀