OOTB 532 – 7th September – Post Festival Open Slots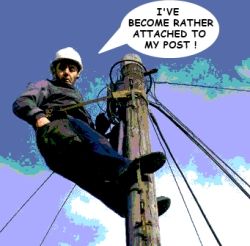 Hello. We're back! Just so there's no misunderstanding, Post Festival Open Slots is not a weird celebration of wooden poles in which OOTB have pre-excavated deep holes in the ground for embedding such items for your convenience in readiness for a linage of telegraph-poles or some big tent sort of thing (ting-a-ling). My god perish the thought of us doing something so obscure, industrial and mundane. Post Festival Open Slots is here to sooth our after-festival tourist-ridden headaches with an evening of original music and unique performances.
We start off at 8pm this Saturday, but turn up sometime before 7:30pm to book a fifteen-minute slot of stage time if you fancy showing us what you got. It's original material only, be it of song, music or spoken word. Free entry as always.
Our Open Mics page has been updated for September if you want to check out who else is hosting wooden-pole with pre-made hole appreciation carnivals.
Be there or be forever a round peg in a square…
OOTB 😀