OOTB 535 – 28th September – Joel Thomas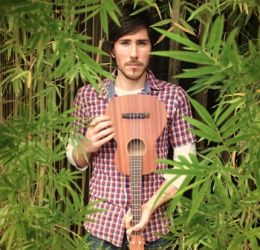 Hello. Featured act this week is talented singer-songwriter Joel Thomas. Having recently located to Edinburgh, Joel has been delighting audiences with his acoustic songs which are performed delicately and precisely. His style has folk influences where the vocal melodies carry stories of love, life and human behaviour accompanied by Joel's simple but effective finger-picking method on guitar. He will be helped along this Saturday with members of his band which includes someone playing a saw. Not to be missed.
Here's a link to Joel's music: soundcloud.com/joelthomasmusic
Open slots for fifteen-minutes of stage time are available as per usual. OOTB starts at 8pm, but turn up around 7:15pm-7:30pm to sign up. Original material only and free entry as always.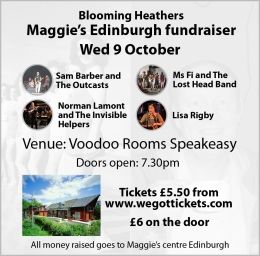 An up-and-coming gig worth mentioning and for a good cause is Blooming Heathers Maggie's Edinburgh Fundraiser. It's on Wednesday 9th October starting at 7:30pm. A Maggie's Centre fundraiser in combination with Blooming Heathers fundraising campaign aiming to raise enough funds to run the centre for a day. This is equally a tribute to Fraser Drummond, a great musician and gardener of repute. Four great bands – Sam Barber and The Outcasts, Ms. Fi and the Lost Head Band, Norman Lamont and The Invisible Helpers and Lisa Rigby.
£6 entry on the night, or £5.50 in advance from WeGotTickets – https://www.wegottickets.com/event/236792.
Blooming Heathers fundraising campaign – http://fundraise.maggiescentres.org/fundraise-together/maggies-edinburgh/crowds/blooming-heathers
Be there or be deemed by a chef as medium-rare …
OOTB 😀