OOTB 537 – 12th October – Dog On A Swing
Hello. My heart sinks when I'm reluctantly shopping in the local supermarket and one of my regular grocery purchases has printed on the packaging, 'New Recipe' or 'Improved Recipe'. What it really means is that the company claiming this is actually making a financial loss and has to cut quality corners to save cash. Cheaper and nastier ingredients are used instead with the taste, look and texture results being rather downgraded to what I was used to. Food gets worse as prices get higher.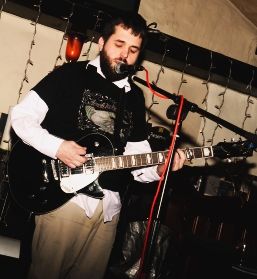 More thought for food is featured act this week who is a regular performer in Edinburgh going by the name of Dog On A Swing. We are very pleased to have Ed Ritchie play for us at OOTB again. If you haven't heard him by now, now here is your chance!
What Ed says:
I play music under the name of Dog On A Swing, a cross between a band and a solo project. I'll be joined on the night by the excellent James Whyte. James also played multiple instruments on the first studio EP, On Love, released online earlier this year. You can stream (and buy) it by visiting dogonaswing.co.uk. CD copies will also be available on the night!
Performance slots are available as usual. Sign up time is around 7:15pm-7:30pm and soon after OOTB starts at 8pm with the first act. Original material only, no covers or duvets here.
An open mic event worth a mention on Sunday 20th October is part of the Open Event Week at St. Margaret's House (151 London Road, Edinburgh). Nicole's EP Release Party with Sir-Tom Watton & Friends starring Nicole Strachan, special guests, surprises and with open slots up for grabs if you want to join in. Click the link for more details.
Be there or be unwillingly bolted to a chair in a nightmare flat-share…
OOTB 😕