OOTB 543 – 23rd November – End Of Neil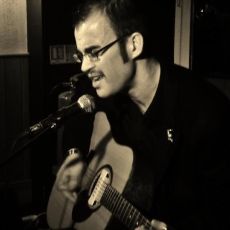 Hello. End of this year is upon us and end of OOTB 'til next year, after December's Christmas bash, is encroaching fast. This week's featured act can be found at end of Kilderkin bar at end of Edinburgh's Royal Mile playing to an attentive OOTB audience. End Of Neil is a well seasoned performer playing gigs in Glasgow, Edinburgh, Stirling and beyond. His style evokes a mixture of indie folk and rock, which comes across confidently with his strong finger-picking and strumming style on acoustic guitar alongside the occasional harmonica solo. His unique lyrics and polished vocals take you on a journey where you might discover something as diverse as chimpanzees escaping from a zoo. Intrigued and want to hear more? Then bring yourself and your friends along to back end (sorry) of the Kilderkin for a drink or two and one fine performance. End Of Neil keeps himself busy with recordings too, so here's a link to his Soundcloud page.
Open emotional wounds of fifteen-minute durations are available to grab and sooth with fine original performances from your good selves. Sign up time is 7:15pm-7:30pm and OOTB blasts the starting fog-horn at 8pm for an evening of creative entertainment.
Be there or be constantly inhaling sulphuric rotten-egg toilet air…
OOTB 😕