OOTB 546 – 14th December – Christmas Bash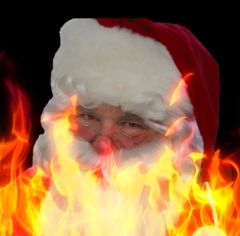 Hello. It's that time of year once more where long stressful weeks of spending money and preparing for that one so-called special day that most people silently dread. By the time Hogmanay comes along, so much leftover turkey and rich food has been consumed that it's realistic to expect bird feathers to blast out on your next visit to the toilet. Partially digested sultanas and raisins also pebble-dash the porcelain leaving an additional marzipan blended stench of stale rum in the bathroom air. All ended rather fittingly with a merry tune from the festive annual musical toilet-roll dispenser apportioning what looks like a slightly softer version of wrapping paper to clean yourself up with.
Anyway before we all overwork our unforgiving bowels, OOTB have a Christmas themed evening ahead. As always original material is welcome, maybe you've even written a seasonal song for our ears to hear. Cover songs this week are being accepted, as long as they have a Christmas flavour of course. Expect open slots, some guests, drink, music and lots of good fun.
It all starts at 8pm, get there a little earlier if you want to sign up for a stage slot.
OOTB will be taking a break after this event for a few weeks and will return hopefully sobered up by the time Saturday 11th January hits us all.
Be there or be indefinitely subjected to cheap jokes from cheap crackers in holiday hell somewhere…
OOTB 😀